INDUSTRY PROGRAMME AND PULA ACADEMY AT THE 69TH PULA FILM FESTIVAL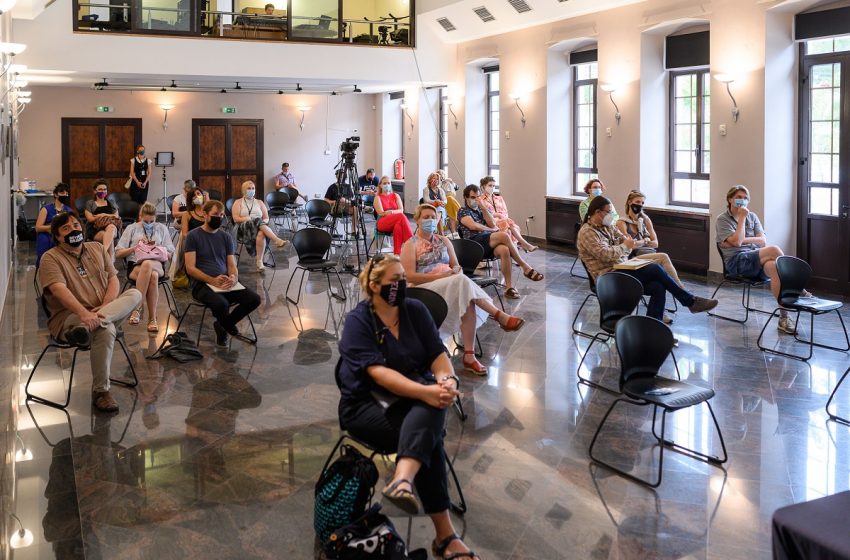 INDUSTRY PROGRAMME AND PULA ACADEMY AT THE  69TH PULA FILM FESTIVAL
The 69th Pula Film Festival is about to begin. We invite you to get your professional accreditations for film professionals from both Croatia and abroad and follow the Industry Programme. Your professional accreditation will also give you free entry to all film and entertainment programmes of Pula Film Festival. You can find more information and the accreditation HERE.
The Industry Programme is geared toward film professionals from Croatia and abroad, and its goal is to offer professional networking, education, but primarily the marketing of Croatian film projects. From 17 to 22 July, the range of activities, including round tables, work in progress projects, panel discussions, and meetings of professionals, will enrich this year's edition of the Industry Programme, which will welcome a number of distinguished film industry guests.
On Sunday 17 July, at 4.30 p.m. at Valli Cinema, the round table Protecting and Presenting Film Heritage will take place. The host will be Daniel Rafaelić, and the participants Christopher Peter Marcich (CEO of the Croatian Audiovisual Centre), Vjera Matković (head of Sector for Audiovisual Activity and Encouraging Entrepreneurship in Cultural and Creative Industries – Ministry of Culture and Media), Dinko Majcen (head of Croatian Film Archive – Croatian State Archives), Aleksandar Erdeljanović (head of Yugoslav Film Archive), and Gianluca Darinelli (director of Bologna Film Archive). The round table will focus on some of the key issues of restoring and marketing Croatian film classics. The main topic will be the preservation of film heritage with a presentation of the programme of restoring Croatian films. The screening of the restored film H-8 will take place after the round table discussion. The film, directed by Nikola Tanhofer, will be screened in the Venice Classics Programme. The round table is organised in cooperation with the Croatian Audiovisual Centre and is open to the public.
On Monday 18 July, at 12.30 p.m., also at Valli Cinema, as part of the Day of Co-productions, the Croatian minority co-productions, as many as nine at this year's Festival, will be presented. The round table Minority Co-productions and Cooperation of Film Centres in the Region will focus on the results of regional calls for minority co-productions and the plans of the film centres for harmonising the procedures. Producers will have the opportunity to share their experiences and ideas about possible steps towards strengthening the effectiveness of the system. Relevant initiatives on the European or regional level will also be presented. The moderator of the round table will be Boško Picula, and the participants are Christopher Peter Marcich (CEO of the Croatian Audiovisual Centre), Gordan Matić (director of Film Centre Serbia), Nataša Bučar (managing director of Slovenian Film Centre), and Bojan Lazarevski (director of North Macedonia Film Agency). The official language is English. The round table is organised in cooperation with the Croatian Audiovisual Centre.
Also as part of the Day of Co-productions, from 7 p.m. to 9 p.m. at Circolo – Festival Centre, there will be an informal meeting of the representatives of the film centres, representatives of the industry, and all film workers with the aim of exchanging experiences, improving and strengthening business relationships, and initiating new cooperation.
On Tuesday 19 July, at 12 p.m. at the Circolo, the PulaPitch: TV Series Arena will be held. The Croatian Film Directors' Guild, in partnership with Pula Film Festival, is once again organising the presentation of projects developed at the Screenwriting Workshop of the Croatian Film Directors' Guild for live-action and documentary series in 2021. The projects were developed under the mentorship by Snježana Tribuson, Ognjen Sviličić, Saša Ban, and Miroslav Sikavica. The following live-action series will be presented: Rumpus (directed by Dubravka Turić), Banija (directed by Vlatka Vorkapić), Mrtvi kut (directed by Andrej Korovljev), Žena dijete glumica (directed by Lana Kosavac), and the documentary series: Napravit ću scenu (directed by Ivan Grgur), Pojesti (directed by Dario Juričan), and Ploveći mostovi (directed by Silva Ćapin). The seven projects will be presented to producers, sales agents, and representatives of film and television companies. The moderator will be Ljubo Lasić, and the projects will be presented in English.
Work in progress is the central part of the Industry Programme, where film professionals will present their films nearing completion to representatives of film marketing: sales agents, consultants, and film festival delegates. Other than majority Croatian projects, minority co-productions will be presented as well – a total of 13 new projects. The international jury composed of Osnat Bukofzer, Daniela Cölle, and Oliver Neumann will award several valuable prizes. The films that will be presented are Ana (directed by Anđelo Jurkas), The Wrath of God (directed by Kristijan Milić), Diary of Paulina P. (directed by Neven Hitrec), Pula (directed by Andrej Korovljev), Seventh Heaven (directed by Jasna Nanut), Shadow of the Mediterranean (directed by Ivan Jović), Sweet Simona (directed by Igor Mirković), Death of the Little Match Girl (directed by Goran Kulenović), The Stigmas (directed by Zdenko Jurilj), This Is Not a Love Song (directed by Nevio Marasović), Lunatic (directed by Igor Šterk), What's to be Done (directed by Goran Dević),and Sweet Sorrow (directed by  Kosta Đorđević). The presentations will be held in English, at Valli Cinema, on Wednesday 20 July from 1 p.m. t 4 p.m. The moderator will be Ljubo Lasić.
The presentation of the European project CinEd 2.0 – How to get top quality films for working with children and youth will be held at HUIU blok on Thursday 21 July, starting at 9 a.m. The presentation will be held in Croatian by the hosts Marija Giorgiev and Boris Bakal. Cined.eu is a platform of top quality European heritage and contemporary film. It developed as a European project from the network of film archives, museums, institutions and organisations working in film education. Other than films, it also offers a range of materials and tools to learn about film and through film. What kind of films doest he CinEd platform offer, under which conditions, and for who? These questions will be answered in the two-hour presentation for film professionals, selectors, educators, teachers, and other interested parties.
On the last day of the Industry Programme, on Friday 22 July at 11.15 a.m. at Circolo, the panel Engaged film today: Why do we make films? will be held. The panel will be open to the public, and the discussion will feature a conversation with eminent international and Croatian directors about topical issues, engaged film in Europe today, marketing, and expectations – both from the audiences and those who work in film festivals and sales. The panelists will be Eran Kolirin (Israel), Jan P. Matuszyński (Poland),  and Vinko Brešan (Croatia). The panel will be held in English, and the moderator will be Boško Picula.
Pula Academy is the educational programme of Pula Film Festival targeted at students, but also open to all accredited professionals.
Students will be able to hear about film topics across various areas in short presentations and lectures, which will be followed by discussions led by panelists. The programme will run from 18 to 21 July at Circolo – Festival Centre, and will a 10.30 a.m. start. On Monday 18 July, the topic of How to produce a children's film – case study "Beanie" will be discussed by Ida Weiss (Senca Studio – Slovenia), Adolf El Assal (Wady Films – Luxembourg), Vanda Raymanova (Objectif – Slovakia), and Marina Andree Škop (PomPom Film – Croatia). On the second day of Pula Academy, 19 July, Oliver Neumann (FreubeuterFilm – Austria) will present the topic Creating visual style in the film Hinterland. On Wednesday 20 July, the panel Film Markets and Independent Distribution: Uncertain Future will be moderated by Dennis Ruh (European Film Market – Germany), and at the very end, on Thursday 21 July, Christian Routh (ScripTeast – Great Britain) will talk about the Screenwriters' Paradox. The programme will be moderated by Ozana Ramljak, head of graduate and undergraduate study programmes in creative industries at Vern University, and Davor Švaić, dean of the Academy of Dramatic Art in Zagreb.
You can read more about the programmes on the official website of the Festival www.pulafilmfestival.hr. For any additional information, you can send an email to industry@pulafilmfestival.hr.
We wish you a warm welcome to the Industry Programme of the 69th Pula Film Festival.