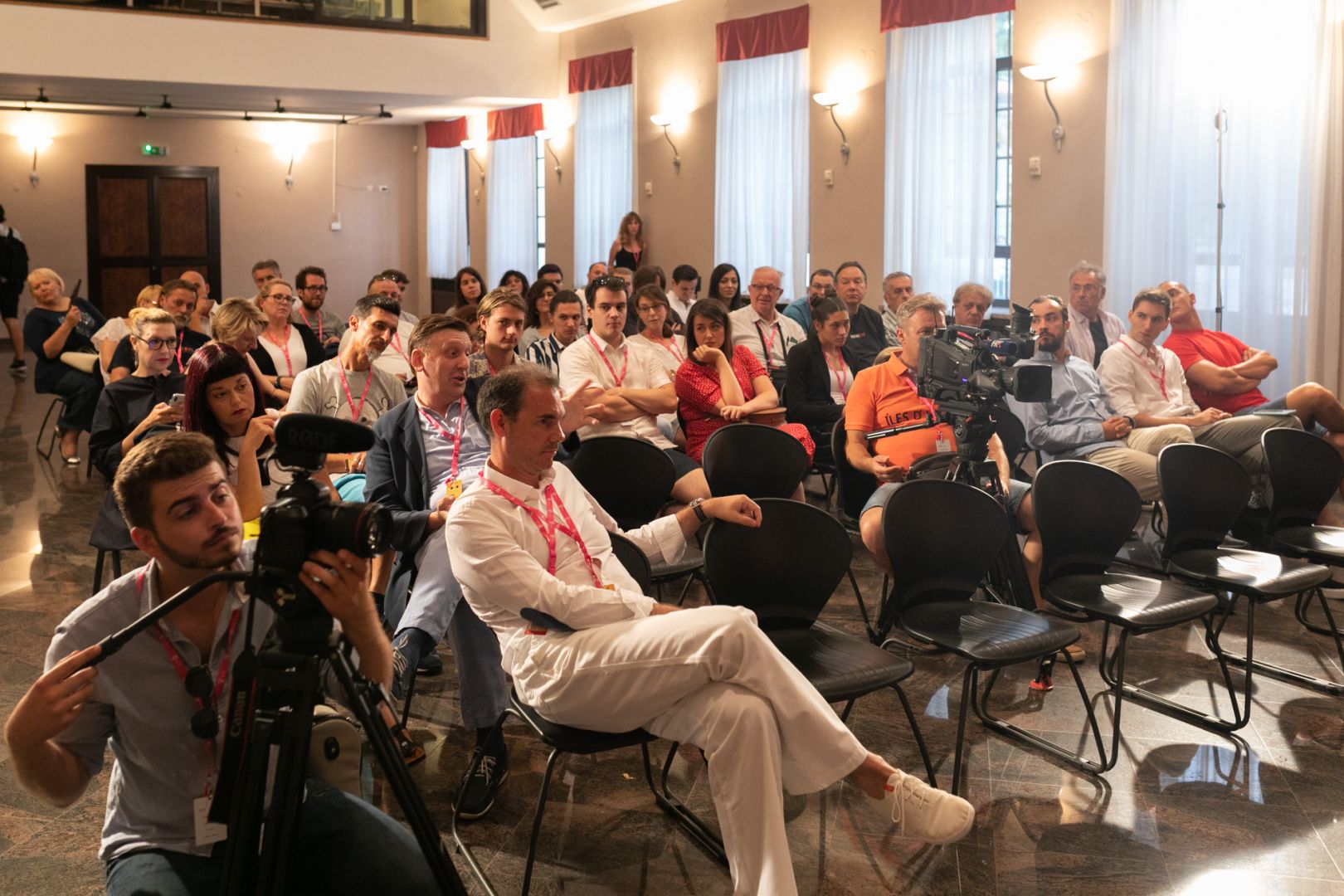 Student will be able to hear about film topics across various areas in short presentations and lectures, which will be followed by discussions led by panellists. The topic How to Co-produce a Children's Film – Case Study Beanie will be discussed by Ida Weiss (Senca Studio – Slovenia), Adolf El Assal (Wady Films – Luxembourg), Vanda Raymanova (Objectif – Slovakia), and Marina Andree Škop (PomPom Film – Croatia). Oliver Neumann (FreubeuterFilm – Austria) will present the topic Creating the Visual Style in the Film Hinterland; the panel Film Markets and Independent Distribution: Future in Flux will be led by Dennis Ruh (European Film Market – Germany), while Christian Routh (ScripTeast – Great Britain) will discuss the topic The Screenwriters' Paradox. The programme will be moderated by Ozana Ramljak, head of graduate and undergraduate study programmes in creative industries at Vern University, and Davor Švaić, dean of the Academy of Dramatic Art in Zagreb.
ITALIAN COMMUNITY CIRCOLO (Carrarina 1) 
MONDAY, 18 JULY
10:30 HOW TO CO-PRODUCE CHILDREN'S FILM – CASE STUDY: BEANIE
Guests: Ida Weiss / Senca Studio (Slovenia), Adolf El Assal / Wady Films (Luxembourg), Vanda Raymanova / Objectif (Slovakia), Marina Andree Škop / PomPom Film (Croatia)
Host: Ozana Ramljak
TUESDAY, 19 JULY
10:30 CREATING THE VISUAL STYLE IN THE FILM HINTERLAND
Guest: Oliver Neumann / FreubeuterFilm (Austria)
Host: Ozana Ramljak
WEDNESDAY, 20 JULY
10:30 FILM MARKETS AND INDEPENDENT DISTRIBUTION: FUTURE IN FLUX
Guest: Dennis Ruh / European Film Market – Berlinale (Germany)
Host: Davor Švaić
THURSDAY, 21 JULY
10:30 THE SCREENWRITERS' PARADOX
Guest: Christian Routh / ScripTeast (Great Britain)
Host: Davor Švaić
21:30 ARENA
Award ceremony for the Student Programme
The student programme conceptually builds on the Pula Academy programme. A selection of student films from academies, faculties and universities from Croatia and other European countries that are partners and collaborators of the Festival will be screened in the Istrian National Theatre in the afternoons from July 17 to 21.