International Programme of the 69th Pula Film Festival Announced and Online Ticket Sales Start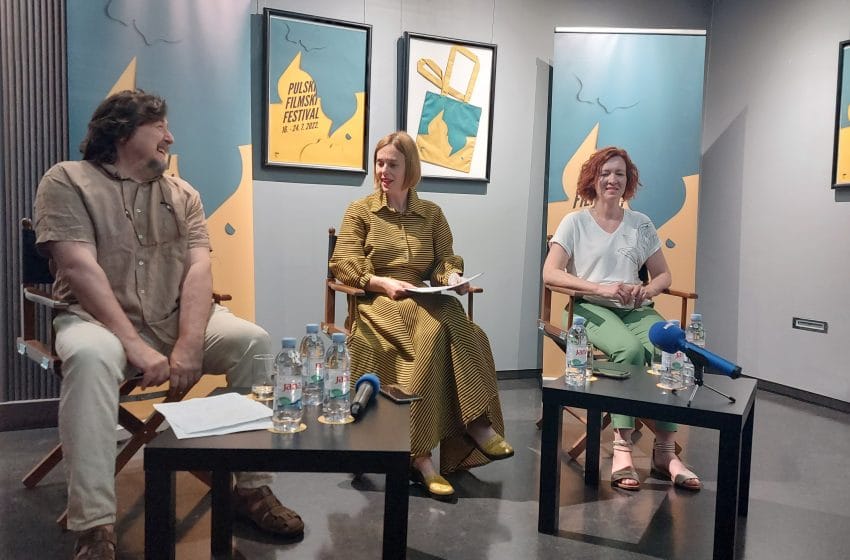 Artistic director Pavo Marinković and director Tanja Miličić announced the international programme of the 69th Pula Film Festival at a press conference held at the foyer of Valli Cinema. Sanja Cinkopan Korotaj, director of Pula Tourist Office, expressed support to the largest city festival that provides a rich and attractive cultural and artistic programme to its citizens and visitors.
A total of 11 films will be screened at the Arena, Valli Cinema, Istrian National Theatre, Kaštel, Ambrela, and Brijuni islands, most of which have received awards at the most prestigious world film festivals, while most directors will visit Pula Film Festival, said Marinković. The programme at Kaštel will be opened on 16 July by the Spanish comedy The Odd-Job Men (directed by N. Ballús), which received five Catalan film awards Gaudí and the best actor award at Locarno International Film Festival. The Odd-Job Men offers an image of a different Barcelona through a story of the everyday and somewhat surreal experiences of three plumbers. Other films that will be screed at Kaštel are Miracle (directed by B. G. Apetri), a crime thriller which premiered at Venice Film Festival, which received awards at Warsaw and CinEast and tells the story of the disappearance of a young nun and the subsequent police investigation that exposes the unfathomable truth and a true miracle; Butterfly Vision (directed by E. Alper), a powerful story about a soldier who discovers she is pregnant when she returns home from being a prisoner, which premiered at Cannes; Burning Days (directed by E. Alper) about a young prosecutor who is dragged into a political conflict on the local level; Let It Be Morning (directed by E. Kolirin), a story of a man and his family who are held captive in a small Arabic village in Israel by Israeli soldiers, which won seven Israeli Film Academy awards; and Leave No Traces (directed by J. P. Matuszynski), about the case of high school student Grzegorz Przemyk who was beaten to death in 1983 in Poland, which received awards at Cottbus and Ostend. Three films will be screened at the Arena: Heavens Above (directed by S. Dragojević), a film triptych of magical black humour stories set in post-communist society filled with superstition, corruption and hope, which will be screened on Tuesday, 17 July; How I Learned to Fly (directed by R. Andrić), a heartwarming family story shown through the eyes of the girl Sofija, whose summer on the island of Hvar brings surprising discoveries, unexpected relationships, but also bitter realisations and challenges, which will be screened on Wednesday, 18 July; and Being Human Is Not So Bad (directed by D. Kovačević), a thriller comedy about a piano teacher who decides to solve the mysterious disappearance of a pop star. Two films will be screened at Valli Cinema: Mimi (directed by D. Pejovski), about a girl from a small town who becomes obsessed with her friend's firstborn son; and Sun (directed by K. Ayub), about three teenagers from Vienna who make a video that unexpectedly makes them popular overnight among Kurdish Muslims, which was awarded at this year's Berlin International Film Festival.
The international programme jury decides on the best films in the International Programme. The members of the jury are story analyst and film consultant Christian Routh, Croatian director Jure Pavlović, and Danish actress Danica Čurčić. At the end of the press conference, Miličić announced the start of online ticket sales at www.pulafilmfestival.hr. The price of single evening tickets at the Arena is 25 HRK, and entry to all other venues is free. The sale point at Giardini, where students and pensioners can purchase tickets at reduced prices, will open on 9 July.